Clinical Management Quality Mark
Managing the Clinical Environment
In September 2006, the College's Lay Partnership Group launched the Patient Partnership Quality Mark (PPQM) as a component of the College's Safety, Quality, Excellence initiative. The PPQM is awarded to clinics that demonstrate excellence in meeting patient expectations and 160 clinics currently hold the award. A second quality mark – the Clinical Management Quality Mark (CMQM) – was launched in 2008/9 to complement the PPQM.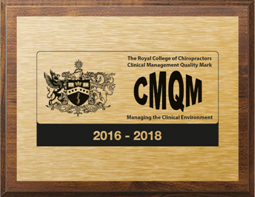 The CMQM recognises excellence in terms of operating within a structured and managed clinical environment. Applicants must demonstrate excellence in a range of areas including: clinical audit, risk management, incident reporting, outcome measurement, patient satisfaction, emergency procedures and operational policy. Detailed guidance and a range of resources to support applicants are now provided (see above).
Call for applications
The call for applications for the period 2023-2025 is now closed. The application form and Conditions of Award are available, for reference only, here.
A call for applications for the 2024-2026 period will open in the Spring of 2023.
Current holders of the CMQM are listed below:
Abacus Chiropractic Clinic, Stratford upon Avon: 2010-2012, 2013-2015, 2016-2018, 2019-2021, 2022-2024
Abbey Chiropractic, Bury St Edmunds: 2014-2016, 2017-2019, 2020-2022, 2023-2025
Advanced Chiropractic, Chelmsford: 2018-2020, 2022-2024
Advanced Chiropractic, Maldon: 2017-2019, 2019-2021, 2022-2024
Advanced Chiropractic, Witham: 2018-2020, 2022-2024
Attend2Health, Buntingford: 2020-2022, 2023-2025
Back in Shape Chiropractic, Andover: 2022-2024
Backspace Chiropractic Fitness, London SW4: 2020-2022, 2023-2025
Beckenham and Bromley Chiropractic Clinic: 2022-2024
Beeston Chiropractic Clinic: 2013-2015, 2016-2018, 2019-2021, 2022-2024
Cedar Tree Chiropractic, Burton-on-Trent: 2021-2023
Centre for Positive Health, Telford: 2023-2025
Chard Chiropractic Neck & Back Pain Clinic: 2011-2013, 2014-2016, 2017-2019, 2020-2022, 2023-2025
Cheshunt Chiropractic Clinic: 2012-2014, 2015-2017, 2018-2020, 2021-2023
Chiropractic Care Clinics (Beaminster): 2013-2015, 2018-2020, 2021-2023
Chiropractic Care Clinics (Crewkerne): 2013-2015, 2018-2020, 2021-2023
Chiropractic Care Clinics (Yeovil): 2013-2015, 2018-2020, 2021-2023
Chiropractic Plus, Haxby: 2016-2018, 2018-2020, 2021-2023, 2023-2025
Chiropractic Plus, Pocklington: 2015-2017, 2018-2020, 2021-2023, 2023-2025
Core Clinics, Hatton: 2020-2022, 2023-2025
Durham Family Chiropractic: 2021-2023
Elgin Chiropractic Clinic: 2016-2018, 2019-2021, 2022-2024
Emerald Chiropractic, Evesham: 2013-2015, 2016-2018, 2020-2022, 2022-2024
Hackney Chiropractic: 2022-2024
Huntly Chiropractic Clinic: 2016-2018, 2019-2021, 2022-2024
Inspired Chiropractic, Norwich: 2010-2012, 2013-2015, 2016-2018, 2019-2021, 2022-2024
Inverurie Chiropractic Clinic: 2011-2013, 2015-2017, 2022-2024
ISIS Chiropractic Centre, Aylesbury: 2010-2012, 2013-2015, 2016-2018, 2019-2021, 2022-2024
ISIS Chiropractic Centre, Milton Keynes: 2010-2012, 2013-2015, 2016-2018, 2019-2021, 2022-2024
ISIS Chiropractic Centre, Northampton: 2010-2012, 2013-2015, 2016-2018, 2019-2021, 2022-2024
McTimoney College of Chiropractic Clinic: 2013-2015, 2016-2018, 2019-2021, 2022-2024
Nimbus Clinics, Burgess Hill: 2021-2023
Skelian Chiropractic Clinic, Cheltenham: 2012-2014, 2015-2017, 2018-2020, 2021-2023
Spinavita Chiropractic, Hardwicke: 2017-2019, 2020-2022, 2023-2025
Stafford Chiropractic Clinic: 2022-2024
Stockton Chiropractic Clinic: 2012-2014, 2015-2017, 2018-2020, 2021-2023
Stowmarket Chiropractic: 2022-2024
Taunton Chiropractic Neck & Back Pain Clinic: 2011-2013, 2014-2016, 2017-2019, 2020-2022, 2023-2025
The Back Pain Centre, Bournemouth: 2020-2022, 2023-2025
Wellington Chiropractic Neck & Back Pain Clinic: 2014-2016, 2017-2019, 2020-2022, 2023-2025